Mark Vincent
Management Accountant
Mark joined WFL back in January 2005 as an IQ Systems Operator working closely with avocados in the Operations department. In 2009 he successfully applied for an Assistant Management Accountant role and began his career in the Finance team.
He embarked on a programme of study, supported by the business, and is now a Management Accountant responsible for the provision of information, both financial and non-financial, to the management team.
Mark says he enjoys the variety and diversity of his role, as well as the scope. He finds himself involved at all levels, from simple costings through to Company strategy formulation. When asked what he's most proud of, he says his development within the business, which has enabled him to progress from a shopfloor role through to studying to become a qualified management accountant.
Charnee Butcher
UK Crop Technologist
Charnee joined WFL back in 2016 after completing her A-levels in Sciences, Maths and History. Having come from a farming background, Charnee was keen to join the fresh produce industry. What Charnee most enjoys about her role is interacting and working with the UK grower base who are friendly and always happy to explain and discuss top fruit growing.
Since starting WFL have supported Charnee to further develop her academic studies as she works towards her PG Certificate in Food Challenges for the 21st Century (through the University of Lancaster) along with her MSc in Food Security. Charnee is most proud of achieving a distinction in her studies so far along with maintaining and managing the WFL apple trial variety orchard.
Julie Thorold
Technical Systems Process Manager
Julie is another colleague who has developed within WFL and demonstrates our strategy of "Growing our Own". Joining in 1999 as a Line Leader, Julie worked for 9 years, gaining valuable experience of the shopfloor processes, before moving into QC in 2008. She progressed to a Senior QC a year later, before becoming a Junior Technical Manager in 2010. In 2015 she took responsibility for Compliance and is now a key member of the Management team.
Her current role means she has overall responsibility for the WFL Quality Management System. (QMS). She has a wide remit with responsibility for HACCP, TACCP, Supplier Approval and Pest Control, as well as the Internal Audit programme. Working closely with Managers across the business, her brief is to develop and improve systems and processes wherever she can.
Again, it is the variety of her role which she most enjoys and the constant new challenges. She enjoys the autonomy her role brings and thrives on the excitement of the unannounced audit.
Julie is most proud of completing a Company Sponsored Foundation Degree in Food Manufacture, (at the same time as bringing up her two sons!) She is also proud of the many projects she has worked on, including improving our trending and reporting capabilities, developing the Supplier Approval platform, and introducing Benchmarking.
Anna Pike
Head of HR
Joining as the HR Manager in January 2019, Anna was keen to progress to the next level in her career and with the HR Director looking to retire, WFL offered the perfect succession opportunity.
Anna says, "From the very beginning of my career at Worldwide Fruit I was fully supported both within my current role and to help me achieve my career aspirations. On the job training was provided, and I was able to frequently gain exposure to the senior team and therefore understand ways of working. I also studied a Coaching and Mentoring diploma, mental health first aid training, Lean Green belt training and a Learning and Development diploma, to enable me to fill any knowledge gaps I had for my future role. Throughout 2020 I was able to work on scoping the future of the HR department, and in January 2021 I was promoted to Head of Human Resources, having full accountability for the HR and Learning and Development team.
I love working at Worldwide Fruit. The people here are amazing, the way in which the business works is simple and transparent, and it's a forward-thinking business that just continues to strive to be better. I am really looking forward to seeing how my role develops over the next few years, and I can't wait to bring my team along for the journey!"
Judy Greetham
Account Manager
Judy is another great example of 'Growing our Own' with a total of 27 years under her belt here at WFL. Judy's career first begun in the Procurement department. After some time out with family, Judy re-joined the business as a Commercial Executive and then got promoted to Account manager leading our Fruit Basket side of the business which has ramped up over recent years due to changes in shopper habits (Convenience & Covid-19).
Since her time at WFL Judy has completed her CQM and she has had lean training which has been provided by the business. Judy's biggest success was launching the M&S Fruit Box within 14 days and what she most enjoys about her role is that no two days are the same.
Krzysztof Goldyn
Logistics Shift Manager
Joining the business in February 2013, Krzysztof is another example of "Growing our Own" and his natural "can do" attitude and positivity saw him promoted to a management role in December 2016. Reporting into the Logistics Manager, he now runs the Blue team, which consists of 13 Logistics personnel.
Their role is that vital last link in the chain, to ensure all products goes out on time and in full. He enjoys working as part of a team and is spurred on by the targets and KPIs which he works to. Not surprisingly he is most proud of having worked his way up to Logistics Shift Manager. He has also improved his English since working at WFL, progressing through the development offered by the business.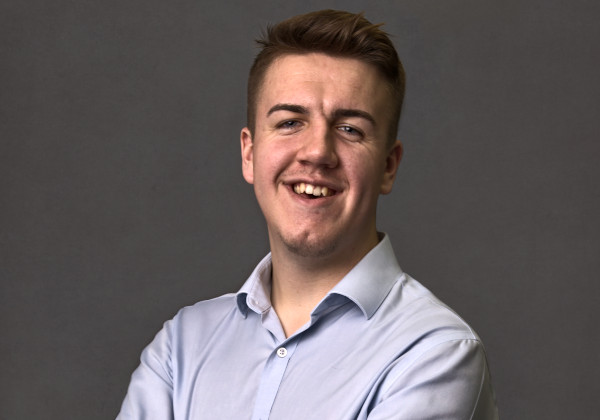 George Coupland
IT Analyst
George first joined WFL as a Multi-Skilled Operative in the summer of 2018 before starting as an IT Apprentice in September of that year. Very quickly it became clear to the business that George was someone we wanted to keep with his calm manner and problem-solving ability. He was offered a permanent IT Analyst role at the end of his apprenticeship in May 2020.
His role is all about supporting the day-to-day running of technology in the business. This can include anything from ensuring the servers are running throughout the day, to making sure the Line ICE & Zebra printers are operational on the Lines. He also deals with tech related queries of all computer users across the business, as well as looking for new ways to continuously improve the technology at WFL, along with the rest of the IT team.
When asked what he enjoys about the role, he says the different challenges faced daily, and the variety, is what he most enjoys. He is also complimentary about the opportunities offered by the business and loves the fact that he knows he will have support with his future development. Colleagues also make the job enjoyable and he loves dealing with users and getting to know them. He particularly comments on how great it is that they have respect for him.
Not surprisingly, he is proud of the successful completion of his Level 3 Apprenticeship. This led to him winning Boston College's Apprentice of the Year in IT and being nominated for Apprentice of the Year in the South Holland Business Awards, where he was a runner up. Both great achievements!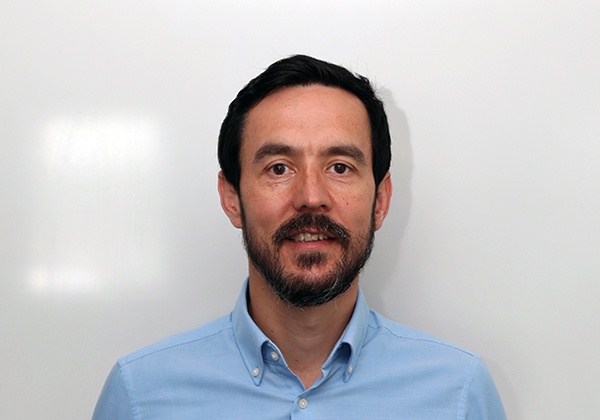 Peter Keyzers
Technical Manager – Stone Fruit
Pete joined WFL back in 2017 and has twenty years' experience in imported produce working across a variety of roles, Product Manager, Ripening Manager, Quality Manager and now Technical Manager. The experience gained through each of his different roles has provided Pete with a strong understanding of managing product and process from farm to consumer to ensure we win with our customer.
The variety of the role is what he enjoys most, combined with the fast-moving nature of Stone Fruit. Since joining WFL, the business has supported Pete in a Stone Fruit growing course to further strengthen his product knowledge and will be beneficial in driving the Stone Fruit category and associated projects going forward. Pete's biggest achievement has been that he joined WFL at the start of the Stone Fruit journey and has played a key part in the development and success of what it is today.
Apprenticeship Scheme
We are extremely proud of our Apprentices at Worldwide Fruit, with one of our Management principles being 'Grows Our Own', we recognise the value of providing effective and constructive apprenticeships to enhance individuals skills and knowledge so they are ready for the future!
Our Apprenticeship scheme covers all areas of our business, we review our scheme regularly and ensure we are attracting and developing talent to support our business and develop skills where needed.
We have had several successful apprenticeships at Worldwide Fruit and a few recent examples of this are as follows:
Our IT Analyst, George Coupland, started off as an apprentice in September 2018, having started with Worldwide fruit in the packhouse. During the course of his apprenticeship George was hugely successful, winning Apprentice of the Year in IT at Boston college and runner up at the South Holland Business Awards Apprentice of the Year category. George has secured a permanent position at Worldwide fruit which sees him on a development plan over the next 5 years.
Tom Wilson started Worldwide Fruit in 2019 as a Finance Apprentice, which he has successfully completed and he is now on a career plan as a Trainee Management Accountant studying his AAT qualification. Tom has also recently undertaken Mental Health First Aid Training and is a Buddy for new starters to our business.
Being an Apprentice at Worldwide Fruit means you can learn in a supportive environment with our industry experts being on hand to guide you along the way. We pride ourselves at Worldwide Fruit at developing our apprentices to be the best versions of themselves.
If you are interested in finding out more about our Apprenticeship scheme and what we can offer please send an email with details about yourself and what you are interested in to people@worldwidefruit.co.uk and a member of the team will get back to you.